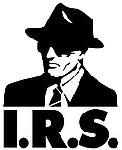 I.R.S. (International Record Syndicate) Records was a record label founded in 1979 by Miles Copeland III, along with Jay Boberg and Carl Grasso. Miles managed The Police (whose brother Stewart Copeland was a member of), and later Sting, as well as other bands.
Notable artists on the I.R.S. Records label included The Animals, the Buzzcocks, R.E.M. and Squeeze, as well as Miles' brother Stewart Copeland on I.R.S. No Speak, an instrumental-only imprint.
I.R.S. Records releases were distributed by A&M Records until 1985, by MCA Records until 1990, and finally by EMI (who bought the label in 1994), until the label folded in 1996.
The final I.R.S. release was the 1996 Buzzcocks release All Set.
The Cutting EdgeEdit
From 1983 to 1987, I.R.S. Records sponsored a weekly MTV show called The Cutting Edge, hosted by Peter Zaremba of The Fleshtones. The series focused heavily on bands that recorded for the label.
On the R.E.M. video titled When the Light Is Mine: The Best of the I.R.S. Years 1982–1987, interviews and performances from the band on The Cutting Edge were included as extras, dating from October 1983 and June 1984.