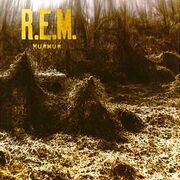 Murmur is the debut LP by R.E.M., recorded between January 6 and February 23, 1983 and released only weeks later on April 12, 1983, on the I.R.S. Records label.
Background
Edit
R.E.M. started recording what would be their debut album in December 1982. I.R.S. paired R.E.M. with producer Stephen Hague, who had a higher industry profile than the band's previous producer Mitch Easter but Hague's emphasis on technical perfection did not suit the band. The producer made the group perform multiple takes of the song "Catapult". Unsatisfied, the band members asked the label to let them record with Easter, so I.R.S. agreed to a trial session to record the song "Pilgrimage" with Easter and producing partner Don Dixon. After hearing the track, I.R.S. allowed the group to record the album with the two producers. Much of the material recorded for Murmur had previously been tested live to a variety of audiences. The band's unique musical style of jangling guitars and murmured vocals continued from Chronic Town, and common musical clichés of the time such as guitar solos and synthesizer leads were avoided.
Track listing
Edit
All songs written by Bill Berry, Peter Buck and Mike Mills, Michael Stipe, except as indicated.
A brief, untitled instrumental follows "Shaking Through".
Personnel
Edit
Bill Berry – percussion, drums, bass, piano, vocals
Peter Buck – guitar
Mike Mills – bass, drums, piano, vocals
Michael Stipe – vocals
Don Dixon – bass