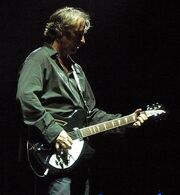 Peter Lawrence Buck (born December 6, 1956 in Berkeley, California) is the guitarist for and co-founder of R.E.M., along with Bill Berry, Mike Mills and Michael Stipe.
Buck and his family moved to Atlanta, Georgia and attended university there, until he dropped out and began working at a record store where he met regular customer and future bandmate Michael Stipe. The two began playing music together discovering their similar tastes, and met other founding members Bill Berry and Mike Mills later in university. The four formed a band that was the very beginning of R.E.M..
Buck now resides in Seattle, Washington and shares custody of twin daughters Zoe and Zelda with his ex-wife Stephanie Dorgan.
His guitar-style is easily identifiable. It is often described as "jangly", as he makes use of open strings and prefers to pick the strings individually, rather than strumming chords on the whole. His guitar of choice, and his trademark (especially on-stage) is the jetglo (black) Rickenbacker 360, notable for its ringing, jangly sounds.